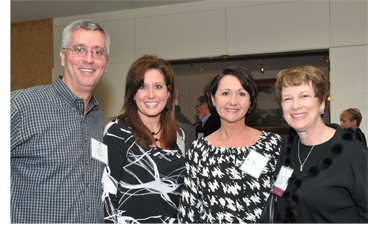 The Neurosurgery Executives' Resource Value and Education Society – NERVES – was established in 2002 for the purpose of helping neurosurgery practice managers and administrators strengthen their practices. NERVES is the only national neurosurgery organization of its kind.
The Council of State Neurosurgical Societies (CSNS), the socio-economic arm of the AANS & CNS, established NERVES to encourage and facilitate networking, resource sharing, and resource gathering among practice managers and administrators*.
Our Mission
To connect neurosurgery executives to resources, education and data to enhance value for the business of neurosurgery.
Our Vision
To be the pre-eminent and most trusted resource for neurosurgical leaders.
Our Values
We promote supportive collaborations through sharing of knowledge, best practices and innovative solutions within a trusted neurosurgical network.
NERVES members routinely tap their colleagues' expertise on specific practice management issues while gaining access to benchmarking opportunities, updates related to neurosurgical coding, regulatory changes, and reimbursement issues. Members serve on committees and share information about the latest advances in management practices, strategies, structures and models. The opportunity for social interaction and networking opportunities is an added bonus. 
The NERVES organization, which comprises more than 200 members, is led by a 15-person board, including two surgeons from the CSNS.  To ensure cross-fertilization of ideas, two members of NERVES also serve on the CSNS Executive Council.
Each year NERVES holds a national meeting and publishes its data-rich Socio-Economic Survey – both invaluable, neither to be missed!
Affiliated Organizations
American Association of Neurological Surgeons – The AANS is the association that speaks for all of neurosurgery and is dedicated to advancing the specialty of neurological surgery in order to promote the highest quality of patient care. NERVES Annual Meeting is held immediately prior to the AANS meeting in the same host city.
Congress of Neurological Surgeons – The CNS exists to enhance health and improve lives worldwide through the advancement of neurosurgical education and scientific exchange.
Council of State Neurosurgical Societies – The CSNS is the socio-economic arm of the AANS & CNS. Two NERVES members sit on the Executive Council of the CSNS, and two surgeons from the CSNS sit on the NERVES Board.
NeuroPoint Alliance – The NeuroPoint Alliance was established in 2008 by the AANS to collect, analyze and report on nationwide clinical data from neurosurgical practices using online technologies.
Neurosurgery Blog – The Neurosurgery Blog covers how healthcare policy affects patients, physicians, and medical practice.
Washington Committee – The AANS/CNS Washington Committee develops and promotes organized neurosurgery's positions on issues affecting the specialty. Through advocacy, policy development, and public relations, the Washington Committee and the Washington Office work vigorously to defend and protect the ability of neurosurgeons to practice medicine freely — and to help ensure the continued advancement of the specialty of neurological surgery.
If you have any questions, please call 704-940-7386 or email [email protected]